In unfun things, I have to get my eyeglass lenses replaced because the coating is flaking off. And I had to go to the vet with a limping Norway this morning for more pain meds. Crawling under the porch to drag a 90 lb dog out by his reluctant furry face is not my idea of fun. (I tried many things before resorting to that, including bribery, cajoling, and scolding. Which is starting to sound like my LIFE lately, thanks to living with a four-year-old.)
I did get my not-a-book all formatted and sent off for reader reviews, and I did get some other running around sorts of things done. But today, so far, my house is not vacuumed and I have not washed the dishes yet.
In fun things, it's Sketch Fest!
http://www.ellenmilliongraphics.com/sketchfest/sketchfestprompters.php
I am trying to motivate myself to do something for a prompt - something fast, because Guppy is in ultra-clingy-not-gunna-nap mode. And I think I never uploaded my piece for last month. Oops.
From several days ago, hiking with Norway. I want to post more selfies this year, not because I'm vain, but because I want to look at myself realistically, and I want to be the kind of person who can post goofy photos without feeling self-conscious.
I've had this entry open, blank, since Wednesday, and the days just gallop past before I can capture them.
I did this as part of #inktober, but PA artists rose to my challenge last quarter, and provided enough portraits that I'll be posting one a day for the next three months. This is a beautiful "problem" to have. Click to adopt! The original is also available.
There is a Sketch Fest on Friday!
https://www.ellenmilliongraphics.com/sketchfest/
I traditionally take the month of January off, but this one crept up on me. I will do the Sketch Fest through the weekend as promised, send out payments and such on Monday, then button up and take the last three weeks of the month off to recharge and get ready for the rest of the year. I need a little break where I'm NOT feeling obligated to answer emails and be the boss. (Except of Guppy. But then, we know who's really the boss there.)
The storm brought a lot of fresh snow (15+ inches), and it was very, very windy. We were without power for just a few hours Friday night. The howling wind and lack of nightlights scared Guppy, who came to snuggle with me in bed for a little while before deciding her bed was better after all. My snow-shoveling muscles are quite well-used.
Bellydancing tonight! I'm thinking I'll pick up pizza on my way home as a treat.
Starting the year as I mean to go on, adding beauty and art to the world, here is a new piece of artwork available now!
I'm in no rush for 2017.
I find no real comfort in the turning of the calendar year, and I do not assign 2016 any malice for the many griefs and upsets that were suffered. I don't find a lot of immediacy in the many celebrity deaths, but I did lose a friend this year, and there were many times I had to stop and wonder at the lunacy of the world and re-examine things I'd taken for granted.
That said, it wasn't all that bad of a year for me personally. I did a lot of art. I wrote and published two not-really-books (not the SAME books, because there is a little lag between writing and publishing - 1 was written in 2015, and one is due to be released in February)... and one of them did amazingly well, while the other still did better than I ever would have expected before this year. I kept my fingers in programming and added some pretty awesome new features to my sites. I had illustrations published in two books (one paid, one a charity project). I released seven new coloring books, one of them a solo book of my own. I did a tarot card for the 78Tarot Carnival project.
I was bold and courageous about my own work, which paid off in crazy spades. I didn't get everything I applied for, but I did get three noteable contracts, one of which I have been able to share nothing about yet, and I'm so, so pleased with my work on it so far.
I did #junicorn, and #smaugust (though I fell a little short there), and #inktober. I did some work in color, and a LOT in black and white. I even started a painting, though it would be more impressive if I had finished it. I wrote a
non-fiction article
.
Business sales were brisk at the beginning of the year, my new coloring book Kickstarter was a solid success, and then sales tapered over to nearly nothing over the summer, with no real holiday rebound, to my surprise. My
Patreon page
continues to grow in teeny steps, and my
Etsy shop
grew considerably in size and modestly in sales. (This month was my best ever in sales!)
My daughter turned four, early in the year, and has been SO VERY FOUR. She vacillates from the sweetest, cuddliest, more precocious little angel to the most frustrating, infuriating, stubborn little monster. I love her in all her ways, but want to strangle her more in some than others. Trying to get her to wear pants is crazy-hard.
There were world-changing health scares in the immediate family, and I am grateful that the terrible potential outcomes were dodged. It was eye-opening. We have life insurance now, it was that serious. I will never take our heath for granted the same way again.
2016 was not awful. It was not unblemished, but it was by far not my personal worst.
I know a lot of people look at 2017 with fear and pessimism, and I understand why, but I'm pretty optimistic.
I'm looking forward to seeing all the amazing, creative projects that my inspired and inspiring friends will make. I'm looking forward to Guppy turning five and seeing what she's like as a five-year-old. I'm excited for the adventures I'm going to have with my amazing husband. I am eager to push my boundaries more - can I write THREE not-a-books this year? Even more? What changes will 2017 make on my art style? Will I FINISH a painting?
It has snowed an inch or so, since I started this entry, but the expected wind has still not arrived yet. I am content to wait. I am ready for the storm. I am ready for the year. I am ready.
Are you?
The sky is getting dark before 3, which is not entirely unusual. But it's also just starting to snow, and the forecast is for up to 15 inches over the next few days, with winds to 50 mph. Power outages are expected (and prepared for!), and I feel like the whole world is just... holding its breath.


*vagueposts and runs to hide*
I was brave today.
We had a quiet, delightful Christmas eve and day. I love my loot - primarily a sock-and-flowerpot snowman from my daughter and a set of burly fireplace tools - and Guppy and Husband both got things they will use and enjoy as well. Guppy is using her new camera everywhere, and has made many things from Playdough and Legos. We had butter meat for dinner, which is to say a rib eye roast cooked to perfection, and a green bean casserole, with butter-drop biscuits. Leftover steak and fresh chicken eggs were breakfast this morning, before we went out and did snow clearing things.
Our Christmas day walk.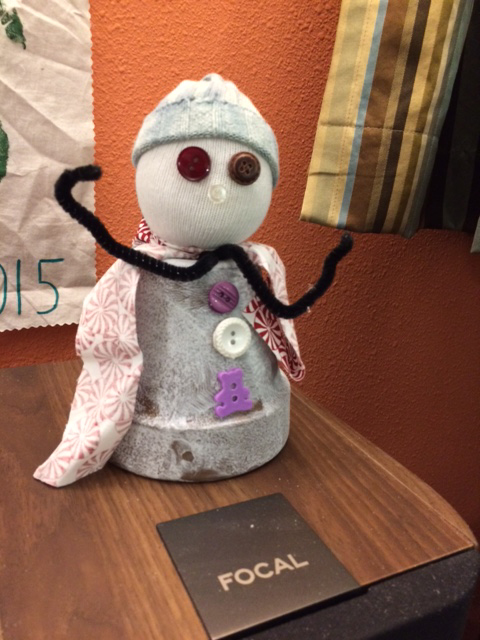 My new favorite snowman.
A storm is barreling down on us this week, and we should get even more new snow, possibly with wind and power outages. Alaska is never boring, whatever else it is.
I have artwork to ink, and edits to make on my not-a-book, a year-in-review to look at, goals to post for next year, and I think I may bake cookies...
May you have many boxes!
*throws tinsel everywhere*
I also got a new offering up at Etsy - a collection of mermaid designs, which is a steal at $10 for 10 designs:
https://www.etsy.com/listing/487447436/mermaid-coloring-pages-for-adults-10
Friday night before Christmas Eve is a ridiculous time to release anything, from a strictly commercial standpoint, but it's the time I had.
Now I'm going to make some delicious dinner and throw more logs on the fire.
Cheers to all!
Christmas is galloping down on us! I still have unwrapped presents, and half the things I planned to do this week are not done (and probably won't be), but I am still feeling... good. I don't know if it's the extra 39 seconds of sunlight since solstice, the walk that Guppy and I took out in the woods, that I'm shaking off the last vestiges of this cold, that I put the last careful lines on a lengthy commission, or it's just that I'm finally feeling Christmas spirit, but today is a lovely, snowy day and I'm full of cheer and goodwill.
Look! Christmas spirit!
(I am never doing tinsel again... my vacuum cleaner is full of tinsel and pine needles. There is tinsel everwhere...)
Guppy and I had a wonderful romp in the snow today:
Now I have to fill up the stove with wood again and send a few emails so I can check things off of my staggering to-do list.
A week later, and I finally feel somewhat human. My coughs are down to a dull roar and I'm only about 60% composed of phlegm.
Have you missed some of my creative updates over the last month? I'm doing monthly roundups to try to keep some sense in the chaos!
Artwork:
3 ornaments painted for Sketch Fest:
http://www.ellenmilliongraphics.com/sketchfest/sketchfestartist.php?id=9&date=81
At Portrait Adoption:
Also:
http://hotlink.ellenmilliongraphics.com/ellen/melyssine.jpg
Leftovers from #inktober:
raven
,
cubicle dragons
,
Christmas Tree Dragon
.
I released 2 pages from the Wild Teas of Alaska coloring: Cranberry, and Chaga Tea.
Skycat Chaos at Torn World:
http://www.tornworld.net/artpageview.php?id=531
In the Beginning illustration, Raven Creates Woman:
http://hotlink.ellenmilliongraphics.com/ellen/ravenmakeswoman6x9.jpg
Hidden Youth illustration:
http://hotlink.ellenmilliongraphics.com/ellen/ellenmillion-notawitch-ink2.jpg
I also finished a bunch more, lots for Portrait Adoption, that I won't share until later.
Writing:
A few thousand words and finished the not-a-book, then edited it! I wrote one book in 2015, and two in 2016, which is better than I've EVER done in my entire life!
I wrote a whole bunch of ridiculous poetry for a big site-wide scavenger hunt.
Other:
UWA show, Pop-Con, Scavenger Hunt, and ACEO print sale.
Click to adopt, the original is also available. :)
I'm still under the weather, and Guppy's got a touch of it, too. We're taking another easy day, with our freshly cleaned woodstove putting out beautiful light and heat. We've watched The Jetsons and Monster Inc. If you have a four-year-old appropriate Netflix recommendation, I'm all ears. I swear if I have to watch The Jetsons again, I will poke forks in my ears.
Still no tree, so I'm going to dig the tiny lighted fake tree out of the basement, because at this point I think that's all we'll do...
New artwork!
At any rate, I'm feeling behind on things and I'm quite dismayed that we're 9 days off from Christmas. What?!
If you, like me, are scrambling for last minute gifts, I've got a way to give a whole lot of people a great thing in one fell swoop: a
Gift Certificate
to EMG. You'll make my day, you'll support an independent artist (or several!), and you'll make the recipient's day, by giving an art gift without having to wonder if they have wall space for that print, or if they have that coloring book, or if they need a character portrait for their RPG campaign. It's even a great gift for an artist, as it also includes the
EMG-Zine anthologies
, stuffed full of business and technical advice for artists and writers.
/holiday shill
Now I'm going to go feed us some lunch and wash some dishes.
I'm very sorry for delays in communication this week. My Monday ick turned out not to just be woodsmoke, and blossomed into a miserable cold on Tuesday. I felt considerably better on Wednesday, though I sounded quite rough. When I got up this morning, I had pain in my ears, so I took a sudafed that knocked me for a serious loop - I keep taking my temperature because I've had hot and cold sweats, dizziness, and brutal exhaustion that I didn't have before taking the sudafed. On the plus side, my sinuses are dry and my ears stopped hurting. I'm not entirely sure it was worth it. I've been just crawling through my morning chores, not helped by the fact that poor Guppy has caught it, too.