Ellen Million: Artist, Writer, Project Enabler, Creative Force of Nature. And, Mom.
I got my studio back together. I still need to clean up a few things from the top of my table, but otherwise, it's all back in shape. I got to use the chopsaw to make the foundation for some boxes. The improved airflow in the corner should be a good thing all around. I even got the rug back down, with a little help from Guppy as I lifted the filing cabinet that went down on it and she helped pull it under.
I also did an epic amount of laundry and kept the fire going and cleaned the bathroom and baked zucchini cranberry muffins and made granola and took out the trash and changed the cat litter and washed three loads of dishes and went in to town to get Guppy a lamp (with countdown timer) for her room, and painted ornaments with
laylalawlor
while watching Megamind (for the one billionth time). It holds up surprisingly well for a billion watches. I need to buy some of the songs on iTunes and make a soundtrack for us to listen to in the car.
Here are the ornaments that I finished:
I also started a slow lori (what ridiculous looking critters!), but it wasn't worth photographing yet.
Now, I am going to call it a day and fall into sweet, delicious bed.
This is the first time I've stopped moving all day. It was a good day, but rather full-tilt.
I have orders out.
My inbox is down to about 50.
I got my artwork mailed to a show in Seattle.
I got two new digital downloads up at
Etsy shop
- two new pieces from my Wild Teas of Alaska coloring book that I haven't posted here yet. Go see! And you can use Fall40 to get 40% off anything at my shop until the end of the month... which is only Friday!!
I have been steadily refining the sketches from #smaugust to ink in #inktober.
On that note, I am SO EXCITED about #inktober! My darling, darling husband who is the bestest got me the Artsnacks #inktober chest and I adore it and cannot wait to try it all out.
The edits to the Wild Teas book have been made and sent to the printer. There is at least a chance that I will have them on hand for Senshi-Con this weekend.
And on that note: Anchorage! You are on notice! I am coming to Senshi-Con next weekend! Come and raid the Bargain Bin, see my wonderful books in person, get things signed! I'll have limited stock of some special edition 78Tarot goodies, and copies of
the Clockwork Queen of Oz
, and all KINDS of wonderful, amazing things.
Laundry and various mundane tasks, like exchanging propane tanks and making a fire (not actually related...), have been accomplished and herein documented so that I can feel like I've done something today...
Besides rebuilding the studio, the weekend was also spent rearranging Guppy's room. We got a gorgeous, hand-carved, all-wood piece of furniture from a friend who was moving to put in her room, but when we put it in the space I'd made for it, Jake looked at how crowded it looked and said NOPE, so we spent a good while moving the bed and the bookshelves until we'd completely redesigned the room into something airy and really wonderful. It's a marvelous space now. Guppy loves it.
My studio is about 85% back together - I still need to sweep (AGAIN) and put the rug back down and move a few boxes and put down some 2x4 stand-offs, but it's USEABLE again, and about 100x neater and better organized than it was. And dry. Thankfully, the only things I lost were a few boxes - priority flat rate or boxes I'd been saving to re-use.
My inbox is out of control. I had more than 600 this morning, and am weeding now. Down to 565 so far... Many just need to be filed, but I fear there are some old messages that need replies, too....
http://www.ellenmilliongraphics.com/coloringbook.php?id=75
I'm expecting stock in about two weeks.
I've also written a little over 500 words (for the first time in a week) and gotten a lot of admin-y, email-y, EMG-y things off my plate. Still need to send Sketch Fest payments, but that will come soooon, my patient artists!
I keep second-guessing my three fictional character choices and want to add Sam Carter from SG-1 and Wonder Woman and... and...
I also have an EXCITING story to tell about that time I was REALLY STUPID and flooded the basement last night, but that will have to wait until I have overcome my shame and also put my studio back together and am not still kicking myself from here to next week. Did I mention that I was REALLY STUPID? Unbelievably stupid. Epicly stupid. (No coloring books were harmed in this act of stupidity, but not for lack of trying.)
Instead, it's getting Guppy out of bed time, and thinking about dinner and maybe watching Megamind for the 100th time.
Next Sketch Fest is on the calendar! Oct 14-16!
There is an order page for Wild Alaska Teas!
I'm least sold on Katara, so am open to recommendations...
I'll be sharing some of my artwork from it later this week, once I've got a release date.
There was a Sketch Fest this weekend, and I only did one paltry little ACEO card:
(original available - click to view at Sketch Fest!)
Here's a lovely review of Serenitrix:
https://stacescolouringgalleryandreviews.wordpress.com/2016/09/12/serenitrix-the-dreams-and-drawings-of-ellen-million/
And, check out this awesome looking card game Kickstarter:
https://www.kickstarter.com/projects/poppy-games/wine-the-card-game
The cold I had successfully fought off last Monday came roaring back on Thursday. I've only written 300odd words since Thursday, but I HAVE finished a coloring book, which is ready to upload to the printer today:
I slept nearly 12 hours (not exactly un-interupted), and feel remarkably better this morning.
Today, I plan to do a whole lot of nothing. There's a load of clothes in the dryer to fold, and otherwise, I intend to watch a lot of TV and drink a lot of tea. Maybe I'll work on some artwork - I am in sight of the finish line on the next Coloring Alaska coloring book, and if I can wrangle it, I'll have two other books ready for reprints by the end of the week, too.
I got no writing or artwork done all weekend, though I did get through a few various house chores. I also missed dance class last night, to my chagrin.
I do have a sale up at my Etsy shop:
The discount code is good to the end of the month!
I think we will watch Tinkerbell now. Or maybe How to Train Your Dragon. And it's time for another cup of tea!
I noticed a tickle in the back of my throat Sunday evening, just a suspicious little dryness. I survived my parent aide stint at the preschool Monday morning feeling just a little spacey, but felt more and more awful as the day progressed. I actually took a nap when I came home, which is shocking for me. It went rapidly downhill from there, and I went to bed at 8 after an evening mostly spent drowsing on the couch.
So, I've been cooking and freezing shredded zucchini and keeping the fire going and washing laundry. I did barely get my 500 words minimum on my not-a-book, but not much more.
Have a photo from this weekend. It is much, much yellower now that we've had a few frosts.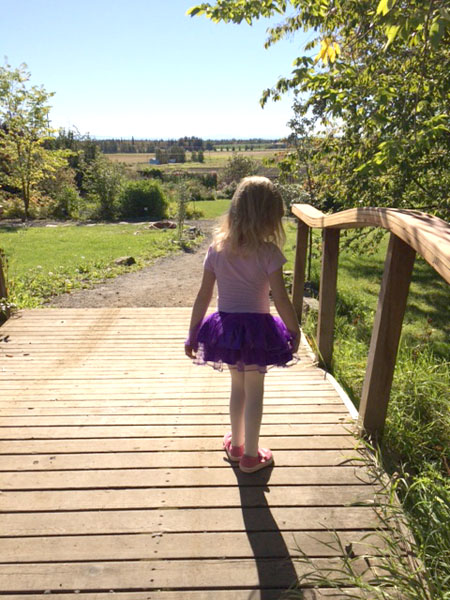 My old laptop has crashed three times today, the first just as I was using it to put together graphics for an Etsy sale. I was JUST wondering if maybe I had jumped the gun in getting my new laptop when this happened. Nope. And now I must stop procrastinating about moving my files so I can get more work done on this one. I was just dreading setting up the new file structure. I don't want to just plop everything on here, I want to improve the organization while I'm at it. I just quail at thinking how much work that will be. *sighs*
Some mornings, this getting up early to write thing works better than others. This morning? The giant dog ate my yogurt while I was trying to convince Guppy that it was still early and she could pretend to go back to sleep... (which has not worked in the slightest)